Instant Bonuses - Funds cannot be withdrawn
Your Instant Bonus funds are available for use in specified eligible casino games, but they cannot be withdrawn. You can convert your Instant Bonus to real money, which can be withdrawn if you meet the bonus' redemption points requirements by playing eligible casino real money games.
The number of bets or redemption points required to convert an Instant Bonus to real money is displayed when the bonus is offered. You can also check this by following these steps:
Website: Account → My Stars → Bonuses
Desktop software: My Stars → Bonuses → Instant Bonuses
Mobile app: Menu (Android) or More (iOS) → My Stars → Bonuses
Select the active Instant Bonus to see the details, such as eligible games, expiry dates, progress and the options to Surrender (give up) the bonus or Pause/Resume.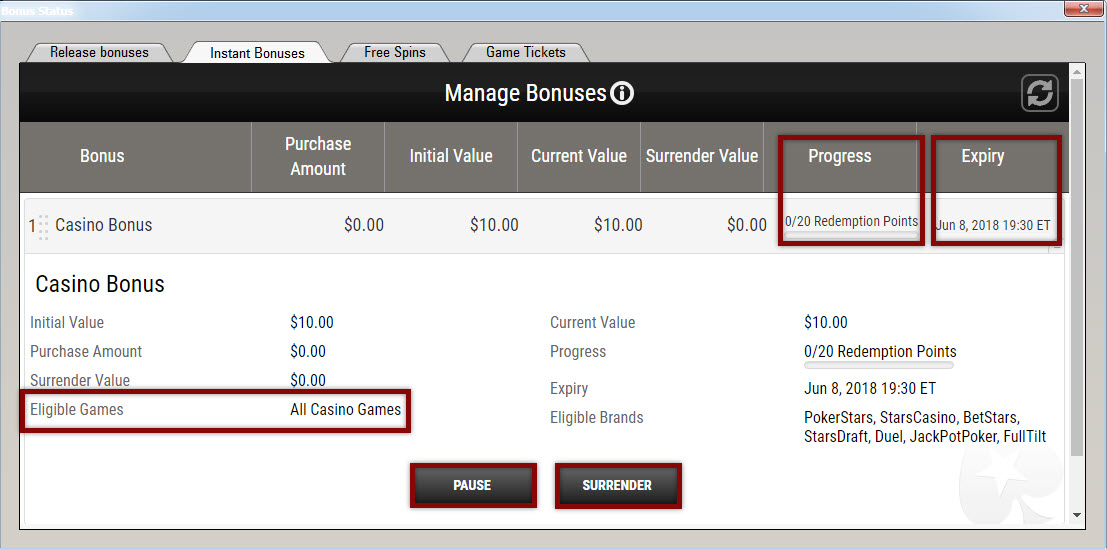 Once you meet the required number of redemption points for the bonus, the bonus balance will be converted to real money and added to your account balance. To release the bonus and convert it into real money, the requirements must be met fully before the expiry date, as bonus funds are not released in increments.
Feedback
Did this article answer your question?