Play Poker for Real Money Using Moneta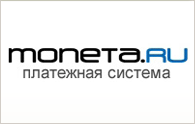 What is Moneta?
Moneta is a convenient and secure payment system, offering a wide selection of the most common payment options available in Russia today.
Once you've registered, you are free to create an e-wallet in any offered currency.
For further information, please visit the Moneta website.
How do I load my Moneta account?
There are a number of ways to load your Moneta account, for instance one of the main method is Yandex.Money.

Please see Adding Funds for a list of funding methods available for your e-Wallet.
How can I make purchases at PokerStars using Moneta?
If you do not yet have a Moneta account, please visit the Moneta website to register and fund an account before proceeding.
All transactions between Moneta and PokerStars are limited to USD, i.e. Moneta will convert EUR into USD as part of the transaction.
Moneta is fully integrated via the PokerStars Cashier screen. When you click on "Cashier" and then on "Buy Chips", you will see an option to use Moneta. Please click on the "Moneta" button and then on the "Deposit" button.
The Moneta deposit screen will be displayed. Enter the "Charge Amount" (as well as the bonus code if you have one) and click on "Submit". A browser window will open up and guide you through a transfer from your Moneta wallet to your PokerStars account. Please keep in mind that you have 10 minutes to complete this transfer. If you exceed this time, the transaction will timeout and the transaction will be cancelled. You will need to start again by selecting Moneta from the PokerStars Cashier's Deposit Options screen.
Current Moneta purchase limits are:
US $10 - minimum purchase
US $600 - maximum amount to purchase within 24 hours
US $1500 - maximum amount to purchase within 7 days
US $2000 - maximum amount to purchase within 30 days
What about my cashouts?
You will need to make at least one purchase with Moneta, in the last six months, to be able to cashout to it.
How do I withdraw money from Moneta?
There are a number of ways to withdraw funds from your Moneta account (e.g. bank wire, bank cash-desk, bank card).
Please see Withdraw Funds for a list of withdrawal methods available for your purse type and country.
What will it cost me to use Moneta at PokerStars?
There is no charge for cashing out funds from your PokerStars account to your Moneta account.
For detailed information on fees, please visit the Moneta Fees page
If you have any further queries, please feel free to contact us support@pokerstarscasino.com