Play for Real Money Using Mobile Payment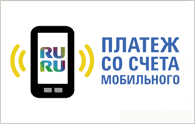 What is Mobile Payment?
Mobile Payment is a popular payment method in Russia that allows you to use the balance on your MTS, Beeline, Megafon or Tele2 pre-paid mobile account to make safe and secure deposits to your Stars Account.
How can I make purchases using Mobile Payment?
Before you start using Mobile Payment to deposit, please ensure that:
You have an MTS, Beeline, Megafon or Tele2 pre-paid account with your mobile network.
You have sufficient funds in your mobile account for the deposit and fee.
The deposit amount and the fee are within the limits set by your mobile network.
Your mobile phone is switched on.
Mobile Payment is fully integrated in the Cashier. To deposit via this method, please follow these steps:
Go to the Cashier.
With your preferred currency bankroll selected, click 'Make a Deposit'.
Select 'Mobile Payment' and then click the 'Deposit' button (if using the desktop client).
Enter your 10-digit MTS, Beeline, Megafon or Tele2 mobile number (for example: 9012345678). You only need to do this once.
Enter the amount of your deposit in RUB, your bonus code (if applicable) and click 'Submit'.
You will then receive an SMS message on your mobile phone. Follow the instructions on the SMS message to confirm the payment details.
Once the payment has been successfully completed, you will receive an SMS message confirmation.
Your Stars Account balance will be updated once the funds have been received.
What are the deposit limits for Mobile Payment?
Each mobile network has its own limits on how much you can spend with one pre-paid mobile account (across all merchants). This limit is imposed on the total amount including the fees.
Please visit the cashier for your current deposit limits.
How much does it cost to use Mobile Payment?
We do not charge any fees for using Mobile Payment. Players are responsible for any fees charged by their mobile networks.
Can I withdraw using this method?
It is not possible to withdraw your funds via Mobile Payment.
Please see our Withdrawal Policy for alternative cashout methods.
How does the exchange rate conversion work?
We use the prevailing mid-market rate provided by XE (plus a small fee if applicable) to convert your deposits to your account currency. For additional information, please read our Real Money Transaction Processing and Currency Conversion Terms and Conditions.
If you have any further queries, feel free to contact Support.